App-titude
We do Apps.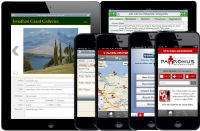 Not just any Apps, we love doing custom business apps, typically the B2E (business to employee) Apps that you can't find on the App Store or Google Play. Have a look at our case studies;
Total Produce
and
Jonathan Grant Galleries
for live Apps,
GrapeWorx
and
VinePower
for synchronised Apps suitable for using offline. We also recommend these free resources from the FileMaker website
Contact us
now for a free consultation.