Case Studies
Patronus International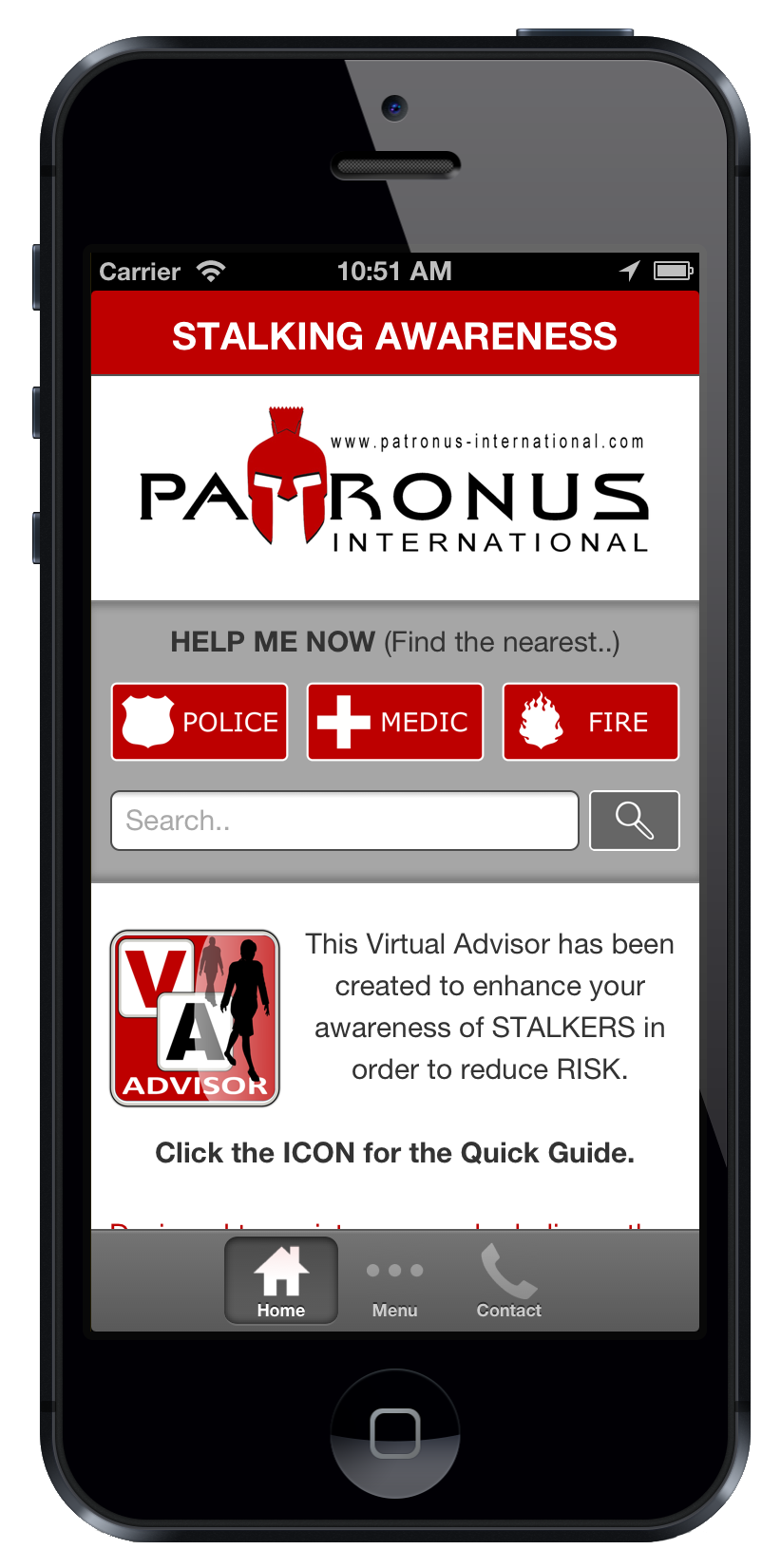 Patronus International are world leaders in providing assistance for Government agencies, national companies, international corporate's, VIP's, security firms and private entities. They are very nice people in a very serious industry and are experts in the sort of things the rest of us just see on the news or in the movies.

As part of their training activities, they developed the concept for a range of smartphone apps for their clientele and approached us to build them. We turned the first two prototypes out within a fortnight and had them completed and uploaded to the Android and Apple stores within another two working days.

The technology we are using enables us to build lightweight Apps as a single structure and then publish it seamlessly to iPhone, Android, Windows Phone and Blackberry. It's fast, efficient and economic.

And if you know anyone who has serious security concerns from Stalker Awareness and Teen Safety to Hostile Environments and Counter Kidnapping, they would do well to talk to Keith Suddes at Patronus.
Jonathan Grant Galleries / Artis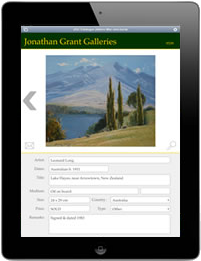 Jonathan Grant Galleries in Parnell have been clients of ours for many years and FileMaker fans for even longer. Following a recent upgrade to FileMaker Pro 12 and migrating to their own local server to take advantage of the speed and backup capabilities, they asked us to develop a catalogue App for their iPads.

On any other platform, providing a mobile App that connects in real time to a home-grown legacy database solution would be a challenge but in FileMaker it is actually quite simple.
Roland Jeffrey Sports Physiotherapists
Roland Jeffrey is a successful independent physiotherapist. His large suburban clinic in Glenfield houses up to 14 therapists and when he is not there, he is generally on duty with the NZ All Whites.
Roland was unimpressed with the commercially available packages for physiotherapists and in particular wanted to break down the interpersonal barrier between therapist and patient by using iPads (for more on that concept, read about the Hilton hotel chain).
The resultant project, Phys-iOS features a class-leading combination of features that enable the therapists to work onsite or offsite, using iPads to record all aspects of the consultation with clinical notes, drawings, photos and video in a single app.
Administrative tasks such as confirming billings are also done on the iPad and the extensive front-desk and back-office interface also supports ACC integration, mail-merged correspondence and archiving of related scanned documents.
Phy-iOS is available for sale to other practices. For more information contact us.
VinePower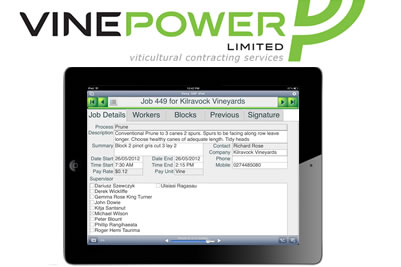 VinePower are the leading viticulture subcontractors in the Marlborough region, providing on site labour teams to a large proportion of the areas vineyards. In a tight market, in the teeth of the recession, Jono Bushell took the brave decision to invest in an IT project that he believed would make significant productivity gains: "We approached several software development companies who submitted quotes & models on what our solution could look like. Some were too complicated & some were too expensive. We had to keep focus on the needs of our company & the ability of our Supervisors who would be the end users in the field."
The resultant project, Vinny, features an iPad-based jobbing app for the supervisors out in the field. This is synchronized back at the office at the end of each day and the next day's jobs are uploaded with a single click. The iPad app's interface was carefully designed, tested and modified to suit the user's skill set.
Internally, Vinny's database uses the downloaded data to form the basis of debtor invoices and payroll. Automating this process significantly reduced the paperwork load in the office. The reduction in workload achieved enabled VinePower to reverse it's office processes from Payroll-first to Invoice-first with an appreciable effect on cash flow.
In addition, the massive collation of data enables automatic generation of KPI reports which, over time, VinePower will be able to use to support more efficient labour management practices giving them an important edge in the market place."We haven't been disappointed. Vinny is proving to be very effective in reducing data transfer errors, saving time from job completion to invoicing/paying staff and provides valuable data to enable further streamlining of the business.

"We have found the team at FBSL to be knowledgable of their product & very resourceful in resolving issues. They are available when we need them & happy to drop what they are doing to deal with any urgent issues."