Custom-made Xero Add-Ons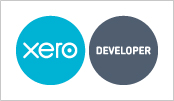 Love Xero But Looking For Something More?
You've come to the right place.
We are specialists in building custom Add-Ons for Xero across a variety of industries from
art galleries
to produce markets to
viticulture
to manufacturing to retail.
From
little desktop apps
that simply take the data from your favourite legacy software and upload it seamlessly to Xero to complete
mission-critical solutions
that manage your daily operations and then talk to Xero, we've got a lot of experience doing this.
Our aim is to make every project worthy of a
case study
and this means it has to deliver real results that you can put a value on, not just technological bells and whistles.

So in 2012 we released the world's first commercial FileMaker-to-Xero plugin,
F2X Pro
. This enables us, as certified
FileMaker
developers, and other FileMaker developers around the world, to easily link their FileMaker solutions into Xero to share data including;
Customers
Contacts
Invoices
Receipts
Debtor balances
Purchase Orders
Payments
Inventory
Payroll…
…the list keeps expanding. Since Xero grows and grows, F2X is in a continuous update cycle and this keeps us on top of our game.
And of course, a FileMaker solution can be locally or cloud-hosted if you need to access it from anywhere just like Xero.
So that's what we do. Now,
tell us
about what you need to do.