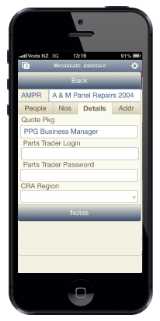 Excited as we are with our new App making skills,
FileMaker Go
is an even better, faster option in many situations. We are currently in the middle of an interesting project building a cloud-server based job processing solution for a start-up (more on that in a future issue). Having just released the first cut of the CRM module for their approval, we fielded a request to make it available on iPhones. Three (3) hours later, they had a real-time, secure iPhone interface to their bespoke CRM cloud database. That's not a website, that's a secure App custom-designed for the iPhone, integrating to a server 'out there'.
Three hours is incredibly fast to turn around something like that and we repeated the act when they asked for a few extra fields to be added.